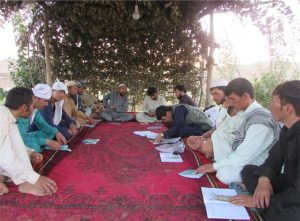 Guiding through an approach for rural micro-entrepreneurs, access to credit is very important not only for starting or expanding businesses but also for sustainability of rural enterprises, therefore Hand in Hand Afghanistan creates Self-Help Groups and guide them to conduct biweekly group meetings where each member saves .
These SHGs enable rural women and men to have savings, contribute in social activities, long-term community cooperation and also SHG members learn from each other.
The total of AFN 1,985,038 has been saved internally as follow:
1,166,553 AFN saved in Sarepul province by the SHG members.
568,990 AFN saved in Samangan province by the SHG members
249,495 AFN saved in Balkh province by the SHG members
A total of 403 members received internal loan from the SHGs worth AFN 2,692,800 (90% Female).
The savings and internal loan along with enterprise startup kits have contributed in creation of 2,205 Jobs for community members (75% Female).
Joint Efforts toward a Common Goal
HiH Af as part of its approach establishes village and district level associations in various sectors such as Poultry Agriculture, Livestock, Beekeeping and Handicrafts.
Initially, village level entrepreneurs from similar sectors are brought together and associations are formed and trained. These associations are then federated into one district level association. The main purpose of creating associations is to expand the market opportunities for members by creating linkages between villages, districts and private sector in the wider markets. They can retain more value by working together to negotiate better deals, share transportation, logistics, service costs, and to capture larger contract. The associations guide the entrepreneurs towards common goals which result in sustainable rural micro-enterprises and job creation.
HiH Af has established the total of 46 village level associations and 2 district level associations in Dara-i-Suf Bala and Dara-i-Suf Payan districts of Samangan Province in the following sectors:
23 Poultry
7 Beekeeping
2 Agriculture
15 Handicraft